I don't know the name of this stall but I had been patronising it for something like 7-8 years now. When I was working, it was favourite with my office mates in Leader Universal, from farewell lunches, bonus day lunches to daily hangout.
Location : Along Jalan Larut, near to Jalan Burmah's junction. Opposite Sheraton, after KFC. Just a small, humble shack, minus all the gawdy lights and plastic flowers that most Malay tomyam stalls like to decorate.
I decided to put up 4 photos to justify how good their food is. The tomyam is the best around. Too bad I couldn't capture a nice photo due to bad lighting in my house. And their sambal belacan….bestest too.
They cook pretty impressive fried fish that comes with excellent sauce, steam fishes and other basic dishes. And only they can stir fry green vege like Chinese do. Try their kangkung faideng, which is kangkung stir fried with only taucheo (soya bean paste), cili padi and garlic.
One dish I ordered on every visit is their kerabu sotong (RM4).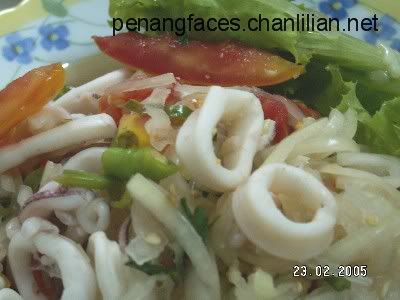 Basic things of onion, coriander leaves, tomatoes, cili padi and boiled squid in lime juice and fish sauce. I had tried making this myself but can't find the right balance, just yet.
Another must have is their Nasi Goreng Ikan Masin (RM3.60/person). This fried rice with salted fish may look wimpy but pour sambal belacan on it, fulamak, heavenly. They use the tiny, gelama salted fish and the flesh somehow blended well into the rice.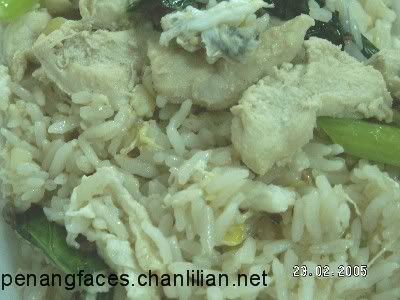 Then, their daging masak merah has just the right balance of sweetness and sourish taste. Very much like the Chinese char siew. Meat is tender too. Actually, I tapau (bungkus/pre-packed) these packets of rice with only one dish. One packet of nasi daging merah, i.e. white rice topped with beef is only RM4 with generous portion of meat.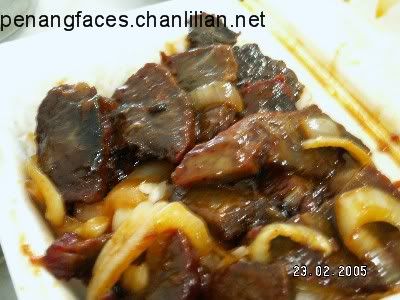 Lastly, I bought a packet of Nasi Udang Pedas which consist of white rice with curried prawns. RM5.60. The whole meal consisting of tomyam, kerabu and 3 packets of rice – RM29.10.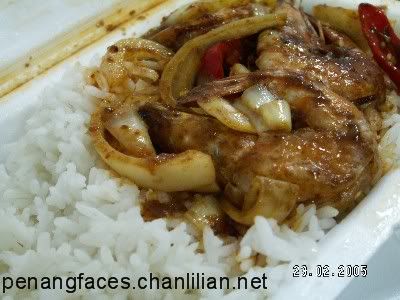 If you are a Penangite, check out this stall soon. If you are out of town, take note and eat there if you want to look for some halal eating place. Waiting time can be long during dinner hours, like 8-9 pm.