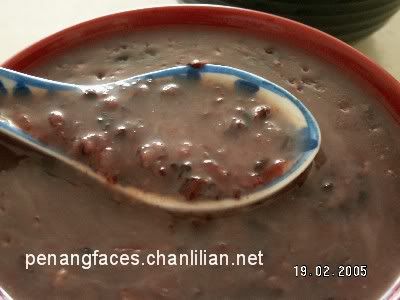 Not so yummy looking bubur pulut hitam (black glutinous rice porridge?). I am wishing for some home-cooked version with lots of dried longans and heavenly santan. The kind which grandmas and mothers lovingly slow cooked over charcoal fire in earthen pots. With fragrant pandan leaves.
In Penang, there are very few hawker who sells strictly bubur like these. Most of their bubur taste so-so only. I think the best one so far is the one in Pulau Tikus. He has several huge pots of all types of bubur. Available only in the afternoons. Some of the stuffs he sells are bubur kacang, red beans, peanut soup, bubur gandum and this bubur pulut hitam. And probably bubur cha-cha.
Each of these bubur deserves their own mention so I shall feature them as and when I find a good one.
Meanwhile, to make pulut hitam like the above, my estimated quantities and method are as below. Note that I seldom cook them because they are too sinfully rich.
Two fistful of black glutinous rice
1 fistful of glutinous rice
2 litre water
(heard from Jason that adding some red beans will make it even yummier)
(if possible, soak them for several hours before cooking)
Boil them over very low fire in a big pot, or alternatively use the slow-cooker. It takes several hours for the things to soften. Probably 3-4 hours at least. Keep adding water as and when necessary.
Add one fistful of dried longans
Pandan leaves
Sugar to sweeten
When longan is soften, serve with thick coconut milk which has been flavoured with some salt.
One of the most heavenly bubur pulut hitam I have eaten is the one served as dessert by Fisherman Grill in Sungai Ara. It is a western food restaurant. The taukeh there (I bet he is a Hainanese) cooked the pulut hitam with dried orange peel and serve it with a scoop of yam ice-cream. I usually need two bowls.
*I remember when I was small, my mom would cook these bubur and she would add in a piece of charcoal taken from the fire. The reason? To make them mushy faster. I am not sure how they get this theory. I had taken charcoals since small and heard from a doctor that it does NOT cause cancer.