Woohoo….I am going to make everyone drooling with this photo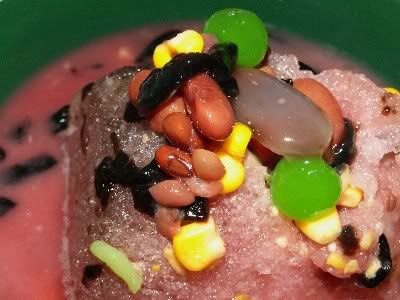 Who can resist a bowl of shaved ice, syrup, milk plus sweet corns, grass jelly, red beans and the famous "I survive on attap chee". Sometimes, shreds of sugared nutmegs, peanuts and raisins are added into them. And top it with a scoop of icecream.
Penang Road has its famous cendol stall by the roadside. You have to stand in the heat, by the noise and busy road to eat them. They call their stall 'Teowchew cendol'. What goes into cendol? Shaved ice, coconut milk, brown sugar/gula melaka and the stringy greenish strands are made from green bean flour mixed with pandan/screwpine leaves. Top it with cooked red or kidney beans and it is heaven.

Whoever tells me that they don't fancy either aiskacang or cendol ought to find a shrink. Don't give lame excuses like 'they are full of sugar, fattening coconut milk'. The stress of trying to live a healthy life by skipping all these heavenly food is sure to send one to hell faster.
Slurp, slurp.