I have this for breakfast and since one of the KL blogger asked for a picture, here it is.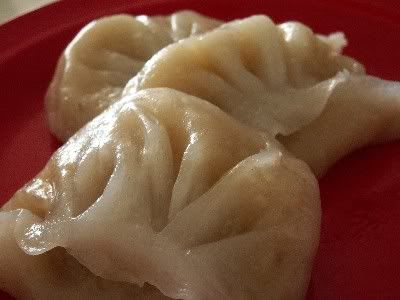 Chai Kueh or simply translated as vegetable cake is made from tang meen fun or gluten free flour and turnips. Not everyone can make this as it takes some skill to knead the dough to the desired texture which is rather chewy and soft and has a transparent-like sheen. Tang meen fun is actually the normal wheat flour which has all its gluten (protein part) removed. If you put flour under running water, they will separate to gluten and tang meen fun. Gluten dough can be used for vegetarian foods whilst the flour is used for other purposes.
Turnips (sengkuang) and carrots are stir fried with dried prawns/garlic and wrapped with a thin layer of the dough. It is then steamed. Dipped in chili sauce, chai kueh is very tasty. Another version of chai kueh is using chives (kuchai) instead of turnips. There are also people making chai kueh with yam too.
The Teochews or is it Hakka? (someone please clarify) makes their chai kueh pink in colour and sometimes, pan fried in oil. My Hakka neighbour used to give us this version of chai kueh which has a thicker skin and not as good as this version I shown above.