The Hokkien, and most of Penang people, mark the end of the Chinese New Year celebrations with a sweet dessert called Pengat. I shall list some of the basic ingredients for pengat. When I have cooked this yummy sweet soup, I shall blog again.
Basically, the pengat must have black eye beans as the base. Soak the beans for several hours (or overnight in the fridge). Boil it in a pot of about 1.5litre water until mushy.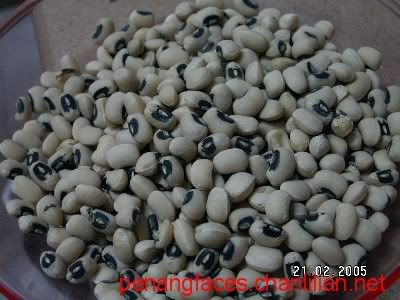 Steam the roots vegetable. They are yam and several colourful version of sweet potatoes. Seen here are the purple, orange and yellow variety. Making beautiful and good pengat is very tedious because I remember my neighbour nyonya grandma labouriously cut the roots vege into diamond shapes of equal sizes and thickness.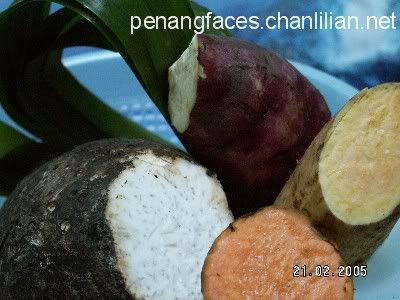 The most tasty ingredient is the banana. Only the ripest Pisang Raja is acceptable. These bananas are then boiled in sugar syrup. The banana shown in the below photo is NOT pisang raja.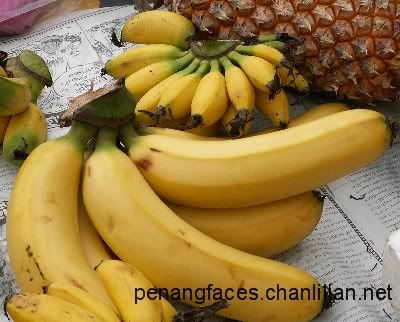 The yam/sweet potatoes are steamed. The bananas are cooked and soaked in syrup.
Another attractive thing in pengat is the tapioca jelly. This is made from tapioca flour knead with boiling water into dough and then, cut into small pieces and boil. (photo not available yet)
To summarise:
Add sugar to the black-eye beans. Put in screwpine leaves (pandan) and lots of coconut milk. Usually, I need about RM5 of coconut milk (which must come from at least 2-3 coconuts)
Once the sweet, milky soup is cooked, add in the steamed yam, sweet potatoes, syrup bananas and tapioca jelly.
Drool, drool, can't wait till tomorrow to cook the whole pot.