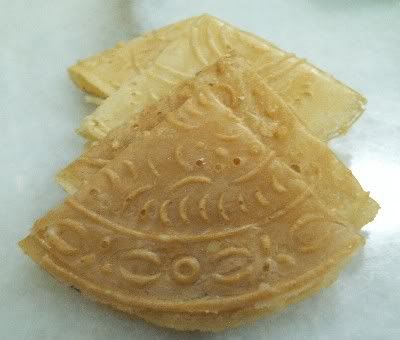 Crunch, crunch, crunch. Kueh Kapit is so crispy. This is one of the few traditional kueh (cookies) that makes Chinese New Year special.
Back in the good old days, I used to help my mom make kueh kapit. Two families will put their resources and manpower together to make them. Coconuts from the trees. Eggs from our own hens. Rice flour are grounded by us using a granite apparatus (not sure the name). We will soak the rice the night before and then, the next morning, manually grind the rice with our bare hands. Then, an old ah poh (granny) will be solely in charged of mixing the coconut milk, eggs, sugar and flour mixture.
The mould of the kueh kapit is made of steel and open up like some waffle maker but only, this is much more difficult, tedious and killing. Because we will be sitting down by the charcoal stove the whole day, usually for two days, 12 hours in a row. Piece by piece we make.
Usually, small kids will first get their apprenticeship of making kueh kapit by folding it. The hot piece of paper think kueh kapit is soft when it is hot and therefore, we have to work very fast to fold the circular piece into four, making a fan shape. Then, we graduate to take care of say, 3 moulds and slowly step up to 6 or even 10 moulds. It is really fun to splash the mixture on the hot mould and squeeze them tight. After that, we have to scrap off the sides. Such thrills!
I wish I had inherited my mother-in-law's moulds (burnt in a fire with her diamond jewelleries liao) but unfortunately not. Anyway, I hate kueh kapit because it is too expensive. It cost RM16 for about 100 pieces. I figure out that I can eat Danish Kjeldsen Butter Cookies, imported, travelled by ship for a much cheaper price. But then, what is Chinese New Year without kueh kapit. So, I bought several tins each year because a tin disappear within a few hours, gobbled up by my kids. One day, one day when my kids are a little bigger and I may venture to be the neighbourhood kueh kapit seller. Not right now because my toddler may end up sitting on the charcoal stove. (It happened to a neighbour's kid before.)
Tourism Penang has the recipe for kueh kapit or love letters here.
Gong Xi Fa Cai!