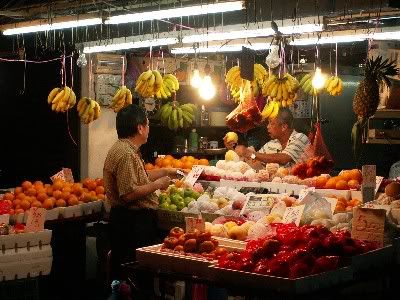 Tomorrow is going to be the 1st day of the 12th moon, which means exactly one lunar month away from Chinese New Year. One day before the 15th and last day of the month, the Taoists and some Buddhists will buy flowers and fruits as offerings to their deities.


One can feel the air of Chinese New Year starting now as all the stalls, shops, hypermarket and malls will be blasting the Chinese New Year songs and also selling everything made of gold and red.
One interesting day before the Chinese New Year is the 24th day of the 12th month which is one week before Chinese New Year. All the homes who worshipped deities and the kitchen god will hold a special prayer whereby they symbolically send their gods back to heaven for a week. It is like a one week holiday for the deities. Most homes will offer the nien kau (thnee koay) to sweeten the deities mouth, especially the kitchen god. It is sort of like a bribery so that these deities report only good things about the household to their heavenly god (thnee kong/thean koong) and therefore, the home will receive only good blessings.


It is also about this time that the Chinese homes will do their annual spring cleaning and that includes dressing their deities, especially Guan Yin in a new robe, bath the statue in Florida Water and seven coloured flowers.
I will try to capture the various types of Chinese New Year goodies when they are being sold. Watch out for photos of kueh kapit, kueh bangkit and all the traditional cookies.