On the hill of Air Itam, there is a huge brass statue of the Guan Yin or goddess of mercy. The photo below is another huge statue located at the same place.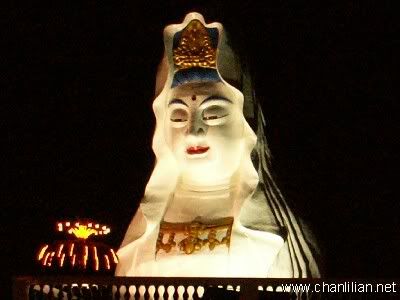 I took my children up to the temple last night (Chinese New Year's eve) and reminded them to keep their deceased kindergarten teacher, Colleen in their thoughts and prayers (to God, Our Father. We are Catholics.) Her ashes is interned here. She died 3-4 years ago in a bus accident whilst going to work.
Air Itam is the most populated area in Penang and what I found unique is the number of churches, temples, Hindu temples and mosques located in the same area. On some roads, one can find Buddhist/Taoist temples, Hindu temples, churches and mosques side by side. Such is the religious harmony found in Penang.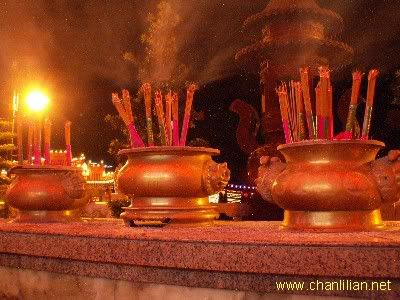 Meanwhile, this is a photo of 3 urns located outside the Kek Lok Si Temple (which is a short distance away from the Guan Yin statue temple). When I took the photo, the devotees were just trickling in and therefore, the urns weren't filled to the brim with burning joss-sticks. Do you all notice that they actually burn a whole bunch of joss-sticks and not mere, 9 or 3 sticks? I wonder why? What will happened when the devotees come in full force?