"Mamak, mee goreng satu, goreng basah-basah, cabai siiiiiiikit sudah. Siiiiiiikit tau. Tak mau ubi, tak mau taukau, taruh kote** mamak cukup"
This is my regular order. Translated as : One fried noodle with little chili, no potatoes and soya bean cake, *the rest censored*.
We have this Mee Mamak stall along Gurney Drive which is a hit with Penangites. The reason is because they have a big range of extras to be added to your noodle. Things like fish roe, beef, all sorts of octupus and squids and parts of the cow. My favourite being the kelempung which I think is the cow's lungs (anyone can enlighten me?).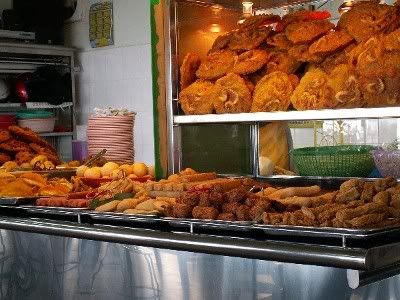 This Edgecumbe Road Mee Mamak has a partner which is the pasembur stall. Pasembur is like rojak. You choose whatever you fancy, prawn fritters being the main ingredients. Then, the stall owner will chop them up, add some cucumber, turnip and beansprout and pour their special sauce over it. Yummy.
The only mee mamak stall I like in Penang is situated behind Penang Plaza in Swatow Lane. This stall is called Mee Sultan which derived it's name from the regular patronage of the Sultan of Kedah (or so they claimed).
Now the ** – kote mamak is actually the fritters made with flour and some onions, I think. It is longish and blackish and hence, referred as kote mamak. Kahkahkah, I hope everyone knows this reference. Seriously, I never say it loud lar, just pointing to the fritters only. Otherwise, he uses the real one, apa mau bikin? And warning – the mee mamak in Gurney Drive is extremely hot so you need to keep emphasizing the siiiiiiiikit sudah or else you will get major cirit-birit the next day. Sharting is a possibility.