Penang sometimes seem to be caught in a time warp. We have the Teochew Opera and also the modern stage show, called 'koh tai' in Hokkien. Roughly translated, it is 'song stage'. These practice of putting up the opera and singing has dated back to a long, long time ago.

Usually, it is held to 'entertain' some of the Chinese gods and during the hungry ghost festivals (around Aug/Sep). The local temple will hold a big prayer and the devotees will chip with with their contributions. Stalls selling food and snacks will normally accompany these stage shows.
Briefly, I shall share a small neighbourhood stage show that is taking place in my residential area. I was looking forward to capture some Chinese opera stage show but it looks like the Chinese gods nowadays prefer the modern, head shaking style of singing.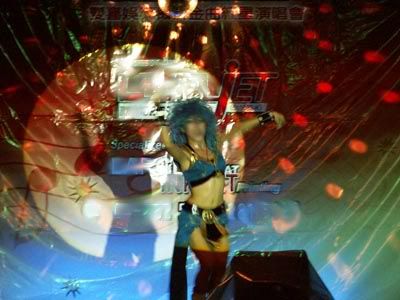 Sometime last year, the skimpily dressed singers were chided by some parties in the newspaper. It is indeed a feast for the eyes (of humans) as these girls normally outdo each other in dressing scantily and gyrating to the latest music.
I did not have time to stand by the stage for more songs and singers and hence, only snapped one photo of the singer. Moreover, it does take some courage for me to be taking out the camera and snapping away. I am actually risking irking some 'big' boys. But heck, it is thrilling too. I tried capture the nazha (a child god) in trance but was too afraid to use the flash light and hence, did not get the photo.
So, here is a close up of the pretty girl (I think it is a real girl la). I had intentionally blurred out the face.