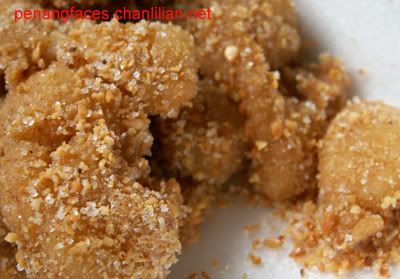 There are some Chinese snacks which the other races should copy. Because they are so tasty and easy to make. For e.g. the muar chee.
Muar Chee is made from glutinuous rice paste, steamed. And then, it is cut into small cubes and mixed with grounded, roasted peanuts and sugar. One can choose whether to add some fried onions on top too. Muar chee stalls are found outside the bigger schools, along Gurney Drive and few other markets. One of them is outside the St. Xavier primary school. It cost RM1 for a small packet.
Last time, my mom used to make a non-halal version with the tang yuen. She would make the tang-yuen and then, flatten them. After that, she will mixed with peanuts and sugar and add, walau-eh, lard. Gosh,that sounds so sinful to me now. All the cholestrol! Of course, nowadays, no one add any oil, not even vegetable oil to the muar chee anymore.
A nice, sweet snack from yesteryear.