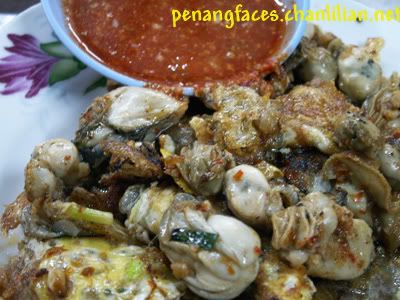 Who can resist a nice plate of oysters fried in eggs and some tapioca flour? And then, dipped in some special cili sauce.
Or chien is another food that must rank very good or it tastes yuckky. To know if the or chien is good, I think I would judge it by the fire and style the person cooks it. It has to be charcoal fire, with the sparks flying all around. And when the cook fries the or chien, he must jump-jump a bit, shake-shake etc. Mesti ada gaya/got style or else the taste won't be good.
The above plate of or chien is from some backlane near Gama. It is really a dingy place that only local knows. Most of the stalls in Penang selling or chien are of decent taste. So, don't forget to order a plate of or chien the next time you are here. Min. about RM5 and maybe RM 10 for 4 persons.
*sorry that this blog has not been updated so regularly because I had been busy with the kids. It is school holidays for a week here in Malaysia.*