The Penang Museum is located at Jalan Farquhar, sandwich between two schools, one of them the St. Xavier Instituion and the Penang Church of Assumption (Catholic denomination). Full details of the museum can be found from Tourism Penang website.
What interest me is the building. I am very entrance with the structure as it spells 'magnificent and proud' to the fullest. So, I had been snapping photos of the exterior from several angles. Day and night. I would like to share two photos taken, one during the day: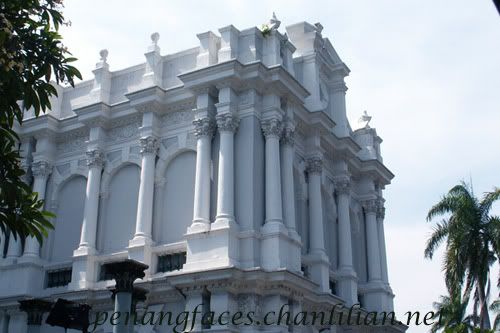 and another on, at night.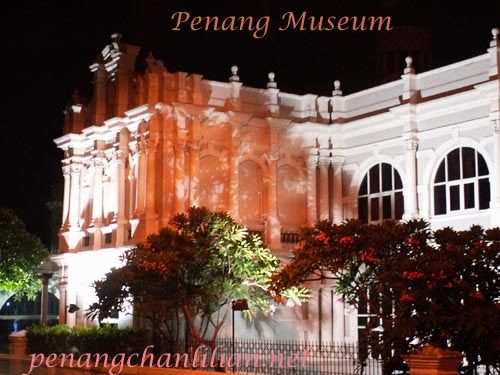 The museum is worth a visit as it has very lively history of the people of Penang. I found it heart-warming to read about all the various migrants to Penang and how they settled into the little island founded by Sir Francis Light. I can just imagine all the people from the Arab countries, Java, Burma, Thailand, Portugese, China, India and so many others arriving here in Penang to start a new life here.
After that visit, I realised how much our ancestors had worked to make Penang such a vibrant city now. They had come together as one nation, bangsa Malaysia, and lived harmoniously eventhough their roots are so varied. I feel so blessed being a Penangite.
Previously, the statue of Sir Francis Light, who was the founder of the island, was located at the Penang Museum but at the moment, it has been moved to the Esplanade. Overall, the museum is quite small but it has a cosy, colonial ambience inside. Unlike some museums which can be stiff, cold and hostile. A tour in the Penang museum is rather like visiting a person's home, welcoming and full of stories.
Moreover, parents with children will find the place to be very educating and interesting. History lesson because alive! Make a trip there. It costs only RM1. But no camera allowed inside the museum, though.