I believe each state in Malaysia has its own version of rojak. Over here in Penang, the typical rojak has the followings as main ingredients:
Some sticky, smelly sauce
Chili powder
Grounded, roasted peanuts
Belacan powder
Fruits and vege consist of guava, jambu air, pineapple, green mango, turnip (sengkuang), cucumber and sometimes, jelly fish, tau kua and err…I don't really know.
Because I HATE rojak. However, someone bodek (apple polishing) me 99 (maximum) in his blog, I went out of my way to eat rojak today just so that I can take a photo of rojak.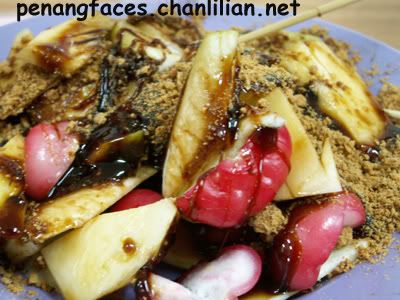 This signboard, Majestic Rojak is for Rojak.blogspot.com. Wingz? Shall you call your blog Majestic Rojak then?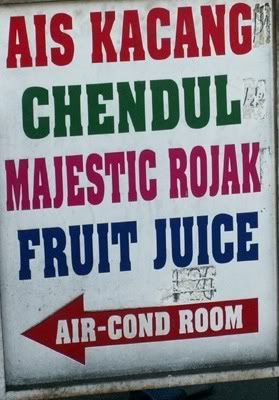 Majestic is actually the bunch of hawkers located along Swatow Lane. Swatow Lane is behind Giant Hypermarket in Jalan Burmah. I took a lot of yummy, yummy delicious foods like chee cheong fun, or kueh (yam kueh), cendol, ais kacang but gimme sometime to crop and re-size them before I can blog.
Meantime, I hope the photo of the rojak makes my dear readers drool. I still hate rojak. Just never like it at all. Can someone tell me why they like rojak?