Many types of foods had sort of disappeared from our preference but I am glad that the roti benggali is still around. A loaf of freshly made roti benggali is great accompaniment to curries and soup. Or eaten with seri kaya. The roti man that comes around my apartment still sell roti benggali. Yikes, I am not sure how much but I think is 60 sen per loaf.
Recently, I went to the Upper Penang Road for sup (soup). UPR is where the Odeon cinema and cheaper hotels like Hotel Malaysia, Hotel Oriental are situated. It is also where some very loud, very packed bars are.
The soup there is by far the nicest. They have all parts of the cow, including the cow's penis called sup torpedo. Ewwsss….I won't dare to take a bite! I prefer the mutton soup. Plus chicken and quail (a bird).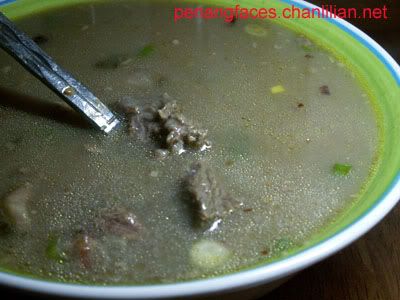 The soup, nasi kandar, mee mamak, koay tiaw kerang are hawker stalls placed along the road and we have to sit by the longkang and five-foot way along dipilated, abandon buildings. Nice environment, I would say. You can ogle at leggy girls too and some are errr….blondes from the Eastern Europe, for hire. *you know what I mean?* So, if you are a married man, you wouldn't want to be caught there alone. You may end up in hot soup if your spouse mistaken you going to that area not for the soup but something else! You certainly do not want to end up as sup torpedo. LOL!
This place – I recommend to all, Muslims and non-Muslims. A good hangout for teh tarik and susu halia.