We were at the mamak stall yesterday. Not really a mamak stall but one of those nasi kandar chains found throughout Malaysia. Where a plate of rice with 3 dishes cost more than RM6 minimum and can go as high as RM10. And what is worse is – the price depends on the mood of the person writing down the bill and also what kind of sucker he thinks you are. So, I will not help to give them free publicity.
However, the kids wanted roti tisu from that particular shop only. So, there I was, queueing up for a plate of nasi kandar costing RM7.10. And it took several minutes because there are at least 15 persons in front of me.
What attracted my kids to this particular nasi kandar stall is their roti tisu which is about two to two and half feet high. It is made into a cone shape with sugar and condensed milk dribbling down the mountain of crispy dough.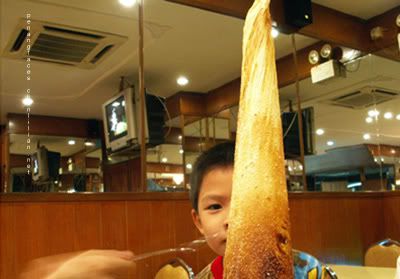 A good mamak stall must serve good teh tarik. The teh tarik at this place is nothing to die for. It doesn't have the frothy top to crown it.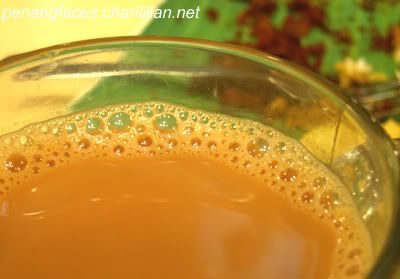 I am planning to go to the Soup Kambing/Lembu stalls along Upper Penang Road one of these days. Watch out for a review on their sup. There is something there which my ex-colleague, Roslan had wanted to introduce to me. Sup Torpedo Lembu. I haven't got the guts to eat the torpedo until today.