I suppose most people have forgotten about the tsunami that hit us. But then, as a Penangite, we have traces of reminders on the destruction.
One of the place hit by the tsunami is this seafood place by the sea. It is in Tanjong Tokong, nestled amongst the low cost fishermen flats.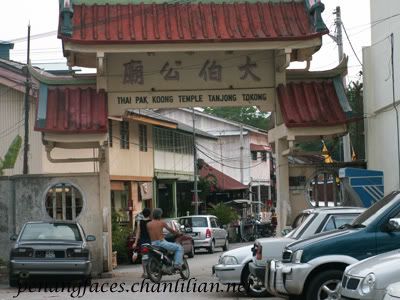 This seafood place has been around for a very long time. Though simple and not attractive at all, it has its appeal. Partly because it is located by the beach and there are traces of some very old building ruins around.

It serves very simple dishes like satay, panggang fish, crabs and prawns.
The prawns come in two style only. Either salt baked or prawn fritters.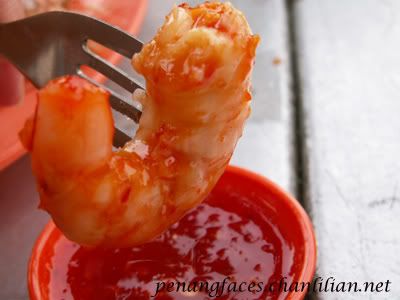 I was there with only my hubby and therefore, only managed to order two things. Salted baked prawns as above. (RM36/kg)
And the crabs. They only baked the crabs, no fancy recipes. But so far, this place serves the freshest and solid, meaty crabs. RM44/kg for crabs with eggs.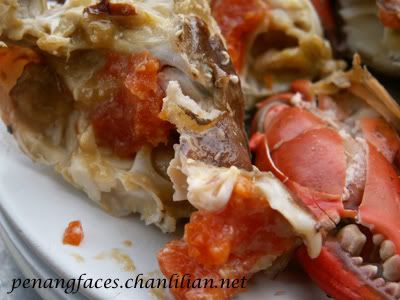 In case, some non-Muslims are not aware, Muslims do NOT eat this mud crab because it lives on land and at sea. It is a taboo. (just kpc to educate people on the haram/halal issue)
They also sell one of the most expensive fried beehoon. It taste lousy and cost a whooping RM8 for a portion for 1 person.

I will not give the place the glory of free advertisment. Hahaha, I always do that, no advertisement unless I feel happy with the place. So, if you are interested to go, just ask for the Tua Pek Kong temple and everyone will know where it is. Every 15th day of Chinese New Year, they will do the fire ceremony to foretell the economy of Penang.
(coming up next…continuation of the place I mentioned in my earlier blog. BTW, I intentionally do not want to do any personal blog at chanlilian.net because I am waiting for the Monday traffic to come and read my comments. Let them be the judge on the interesting flames going on.)