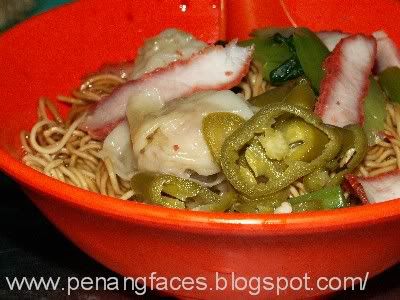 A bowl of wantan mee in Hongkong cost HKD24 = RM12
It has noodles, a few vege and a few wantan.
(kstang, you just returned from HK, tell me correct or not?)
A bowl of wantan mee in Penang cost RM2 only
It has noodles, wantans, some slivers of chicken, char siew, green chili preserved in vinegar, mushroom and yeah, lots of crispy chee-yau-char or lard.
There are several great wantan mee in Penang such as:
Morning – swatow lane, behind small lorong
Afternoon – Burmah Road where Seng Hup is, just a push cart so you have to sit by the 5 ft way, under the hot sun
Afternoon – outside my apartment, opposite Shang Wu chinese school, the hawker street in Jalan Lumba Kuda
Night – my favourite is Johor Road. Johor Road is the fringe of Padang (where Anson road is, opposite the Malaysian Buddhist Association/Anson Court).
Night – Caunterhall road, seller blardy lansi but sure lansi (proud) because big crowd
Penangites – where else can you find wantan mee that is QQ? QQ = springy-springy