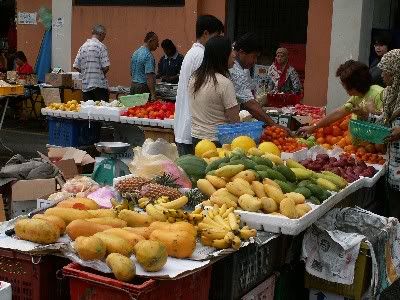 I love wet markets. The sound, sight, smell and the people are so local and enchanting. As I had been following my mother to the Bayan Lepas wet market since small, I never notice the dirt, smelly stuffs, muddy water, intestines, blood and all the less pleasant sights.
If I can, I never miss the wet markets in any country I visited. These places give me the real picture of the country. I remember the wonderful foods which we can only see in glossy magazines at the wet market in Paris. The people at the markets are real, unlike those walking along Champs- Elysee. I had spent many mornings in the wet markets in Italy – Genoa, Florence, Venice, Rome, Milan. Again, drooling at their foods. The fruits and flowers especially were so beautiful. As I was on shoe-string budget travel all the time, I suppose visiting wet markets sort of feature highly on my itinerary. Melbourne, Sydney, Hongkong, China….all wet markets are unique.
Back home, I love going to the wet markets in Pulau Tikus (which I will blog one of these days), Air Itam and my other home in Sungai Ara. Each place has its own personality. Pulau Tikus crowd is the richer and more demanding type. In Air Itam, you can buy puppies, snakes, frogs, tortoise (sui yee) on top of the usual offerings. And in my previous hometown, Sungai Ara, it was like a close knit community where everybody knows each other by their nicknames.
I have taken these photos from the Sungai Ara market. The photo below is the stall selling wet spices. I love this uncle (not in the photo) because all I need is to tell him what fish I bought and he will pick the right spices for me to cook curry. Or you just name him any dishes and he will find the best mixture. Every year, he will sell all these lovely homemade Chinese New Year cookies. They are the best I can find on the island.